{embed_html}

Select a KaraFun Offer
Every offer includes over 35,000 songs with lyrics and full access to our apps
Group 20
Party Pass (2 days)
Online / Offline playlists
Singer Management
Instant activation
Unlimited access for 2 days
Monthly Subscription
Online / Offline playlists
Singer Management
Instant activation
Unlimited access anytime
KaraFun Pro
100 % legal for professional use
Offline catalog
Unlimited access anytime
Priority technical support
Our customers' feedback
Used KaraFun at New Years Eve and everybody had great fun.
Roc, Glastonbury, United Kingdom
KaraFun is wonderful, beyond belief. I have not heard such great accompaniments and singers anywhere else. Sounds like the real thing!
Sarah, USA
We used Karafun for a party on Friday and it was invaluable. Your service is easy to use and has almost every song people asked for.
Kristal, Florida, USA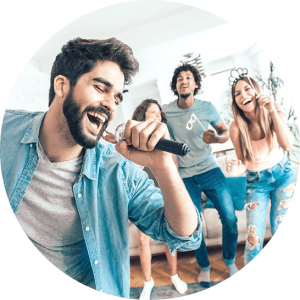 Frequently Asked Questions
Can I cancel my subscription at any time?
Yes, you can cancel your subscription at any time from "My account." There are no penalty fees and the cancellation is effective immediately.
Your subscription won't be renewed the following month.
Do I need an internet connection to use KaraFun?
A simple Broadband or Mobile (HSDPA, 3G, 3G+ or 4G) connection is sufficient to use the online catalogue provided by KaraFun.
You can also use KaraFun Player with your own karaoke files, but an internet connection is required to play the karaoke songs available in our online catalogue.
Which devices are compatible with KaraFun Mobile?
KaraFun Mobile is designed for the following devices :
Apple iOS 10 minimum
All devices running Android 4.0+
Which payment methods are available on KaraFun?
You can pay on KaraFun with a simple debit card that has the logo MasterCard or Visa (except Visa Electron).
You can also use PayPal. In this case, your subscription won't be automatically renewed.
Will my computer work with KaraFun Player?
Can I download the Karaoke Videos that are available on KaraFun?
Our catalog may not be downloaded but can be played through our apps (streaming) with a simple internet connection.
However, with any of our subscriptions, you can sync up to 1,000 songs offline for premium users and the entire catalog for our pro users, on your device even when you don't have an active internet connection.