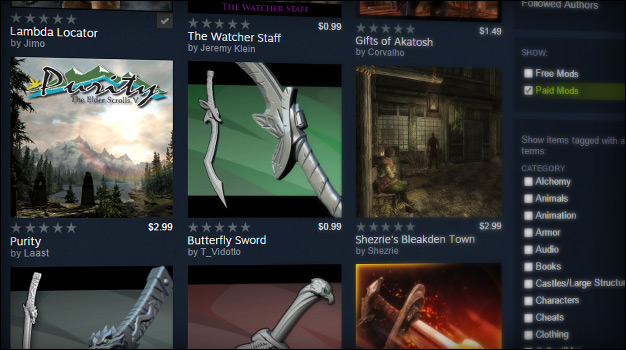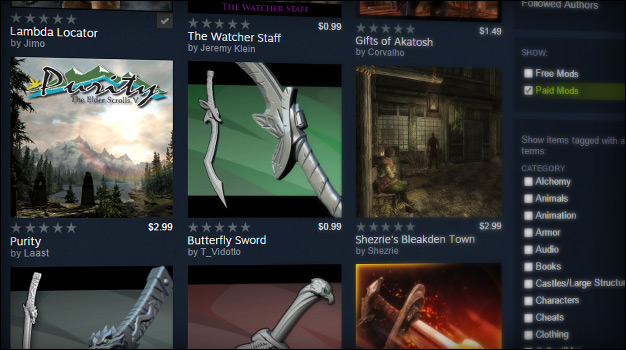 The Steam Workshop has always been a great place for discovering community-made mods, maps, and items for a variety of games. Starting now with The Elder Scrolls V: Skyrim, the Workshop is also a great place for community content creators to earn money by selling their greatest works.
We think this is a great opportunity to help support the incredible creative work being done by mod makers in the Steam Workshop and to encourage more top-quality work. This new feature allows mod authors to choose whether to list their items for a fixed price, for pay-what-you-want, or to make their item available for free. As a customer and fan of Skyrim, you're able to explore both paid and free mods, quests, and items.
The whole feature is best explained in the full press announcement and on the detailed announcement page and FAQ here: http://www.steamcommunity.com/workshop/aboutpaidcontent
Along with these new options available to mod-creators, we've added a few features to support the experience and make everything as easy as possible:
Free, Paid, or Pay What You Want
With over 24,000 free mods available for Skyrim in the Steam Workshop, there will always be lots to do and explore for free. Now you can also find mods with a specified price, or mods where you can choose how much you wish to support the creators. The price is up to the mod creators.
Try any mod, Risk Free
When shopping for anything, it's still important to spend a little time learning about any product you are about to purchase. But, if after purchase you find that a mod is broken or doesn't work as promised, you can easily get a refund of that mod within 24 hours of your purchase. View the full refund policy here.
Play Skyrim For Free This Weekend
If you're new to Skyrim and haven't yet tried it out, now is your chance. Available now through April 26th, Skyrim is free to play. Just visit the Skyrim store page and click the 'play' button to download and start playing. If you decide you want to keep the game, it's also on sale for 75% off regular price!
Explore New Content
To prepare for this announcement, we've asked a few community mod makers to prepare some content for release. Browse Paid Skyrim Mods
Calling Creators!
Whether you're just getting started or are already a professional artist or developer, now you can make money from your creations in the Steam Workshop.
Starting with The Elder Scrolls V: Skyrim, you can make new cosmetic items, custom skins, fancy houses, epic quests, entire new cities, or just a new hat for Lydia. Once you've made your creation, you can easily set a price and earn a portion of each sale made through the Steam Workshop.
Plus, many more of your favorite Workshop games will support paid content in the coming weeks. Check out the full announcement and FAQ for more details.