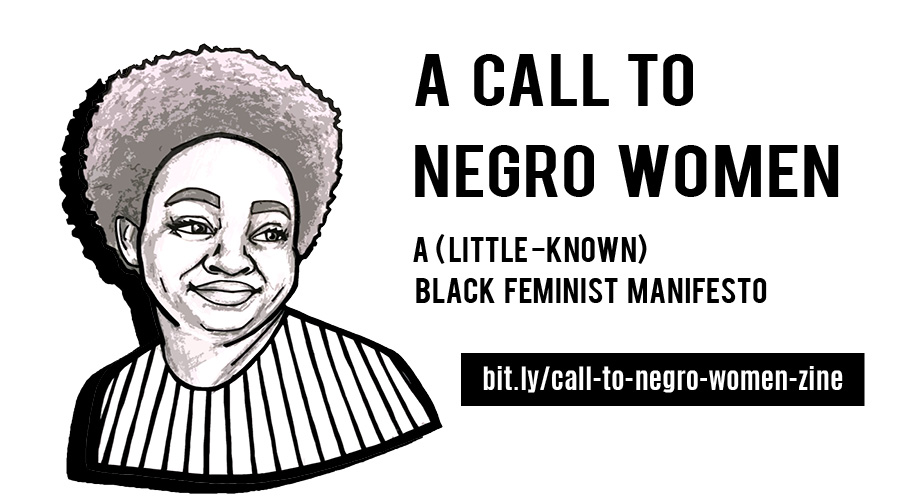 Jan
14
2020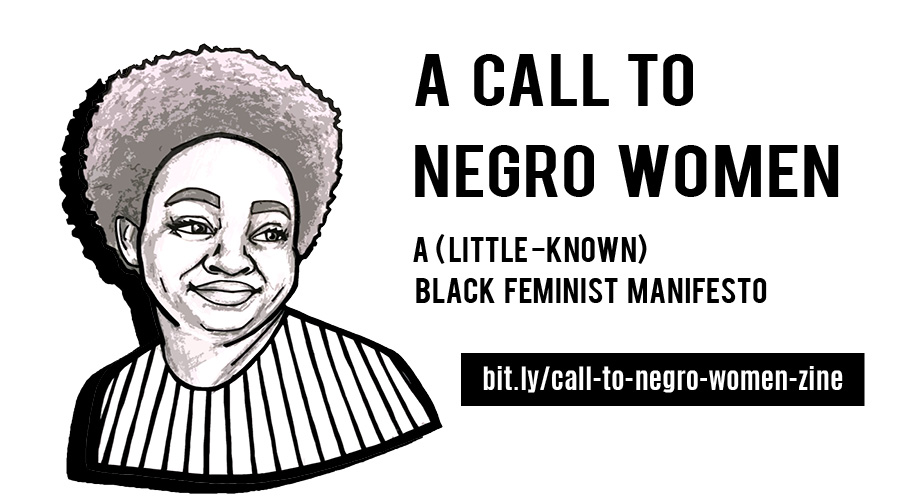 Jordan DeLoach
In 1951, the Sojourners for Truth and Justice wrote 'A Call to Negro Women' to protest the violence, racism, and sexism that Black women experience. Around 130 Black women joined them in Washington, DC to demand justice, safety, and freedom. In this zine, Ashley Farmer and I write essays about the significance of the Sojourners for Truth and Justice in the development of Black feminism and the legacy of Black women freedom fighters. The zine was designed by Jordan De Loach. The zine can be viewed online here.
For those who want to download the zine and share it with others, I only ask that you make sure to credit me for it. You can access it for downloading here. If you want to read the original Call to Negro Women, you can here.
Jan
13
2020
An Invitation…
When I first listened to the audio stories that are part of "Two Sides of Justice" a couple of years ago, I could not get them out of my head. The pain of the losses suffered and the grief that I heard expressed lingered. But I was also struck by the resilience that was clearly evident though I should not have been. I've worked alongside people who have been victimized by violence and who have perpetrated violent acts for over 25 years. Their stories are complex and nuanced.
I had been in community with both Kathryn Bocanegra and Grant Buhr and am a great admirer of their work. I asked them for permission to create a curriculum resource so that these stories could be engaged and used by more people in their organizing and in their communities. They gave the green light and I reached out to a teacher-friend and long-time Project NIA volunteer, Santera Matthews to develop a curriculum based on the audio stories.
This work is part of the Building Accountable Communities Project (BAC) spearheaded by Project NIA. The BAC Project promotes non-punitive responses to harm by developing resources for transformative justice practitioners and by organizing convenings and workshops that educate the public. Partners of the BAC Project include the Barnard Center on Research for Women (BCRW) and Interrupting Criminalization: Research in Action (ICRIA).
I hope that you find this resource useful in your work. I thank Kathryn and Grant for producing the audio stories. Thanks also to Santera for her work, to Claire Schwartz for editing, and to Rachel Hoffman for designing this resource.
In peace and solidarity,
MK
Download the curriculum resource here. You can also access it here: https://tinyurl.com/TwoSidesJustice.
Dec
14
2019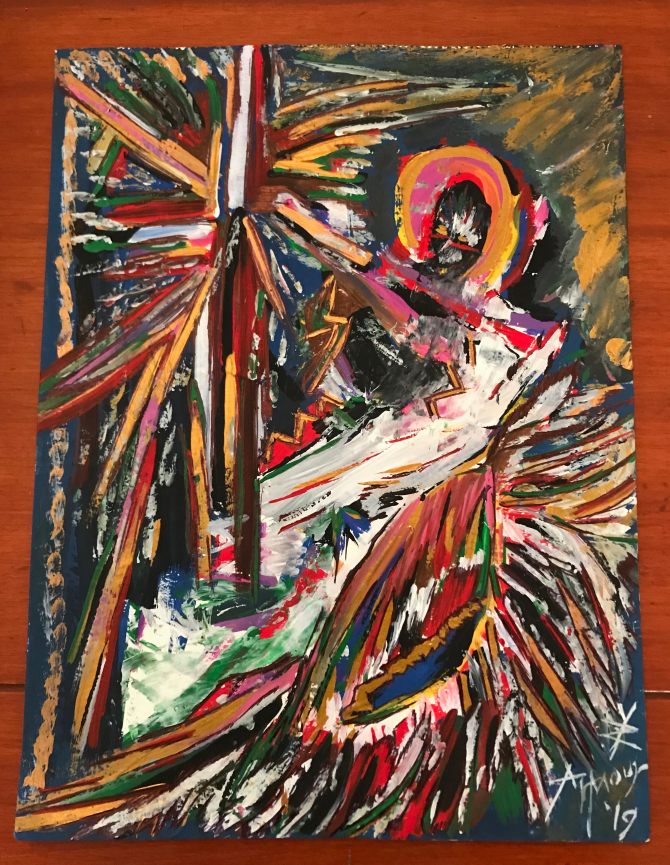 The Roads by Joanne Armour
In July 2019, I asked for submissions on Facebook and Twitter in response to the following question:
"When you've felt at your lowest, was there a piece of advice, a quote, a poem, an excerpt from a book that someone shared with you that was a lifeline? What was it?"
I also requested contributions from incarcerated people as part of a letter writing event hosted by Survived and Punished NY in August. In all, I received 130 contributions. They were all wonderful and so very moving. I reached out to my friend Hana for help. Hana read through everything and selected some submissions to include in the zine.
I also asked some friends if they would create visual art in response to the contributions. They responded with beautiful pieces of art.
This version of the "Lifeline Zine" was designed by Jett Bachman and a copy will be mailed to all contributors. In addition, other incarcerated people beyond those who contributed can request a copy from Survived and Punished NY and it will be mailed to them.
You can read the digital version of the zine here.
The print version is here. Feel free to print and share the zine with your communities.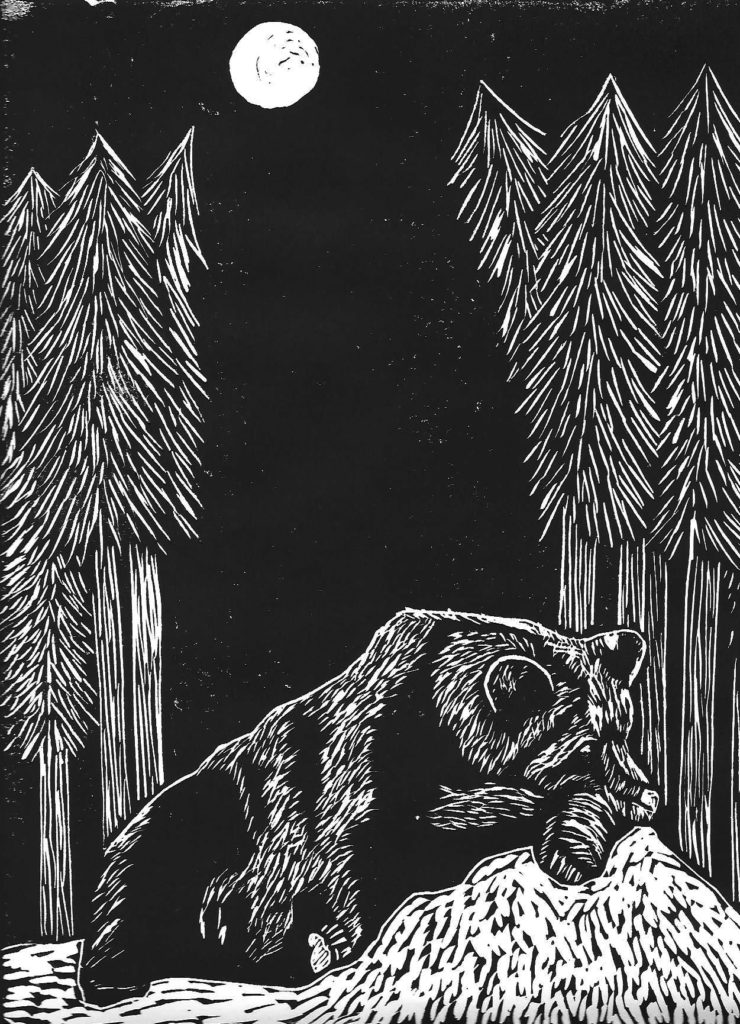 Bear by Rachel Wallis
I am incredibly grateful to all of the contributors to this zine, to Jett and Max for designing two different versions, and to Hana for pulling it all together.
Tags: zine

Uncategorized | prison culture |
Comments Off on Lifeline Zine: A New Publication
Nov
23
2019
I haven't posted about it here but I wrote a children's book titled "Missing Daddy." It was republished by Haymarket Books and is actually currently on sale if you purchase it directly through them at 50% off for the holidays. I have a website for the book as well that includes more resources.
As I've been doing some book events, I wanted to create a document that would summarize some of the things to keep in mind when discussing incarceration with children. For example, I share the following key ideas to discuss with children who have incarcerated loved ones:
You are not alone – many other children and adults have loved ones in jail and prison.
You aren't to blame – this is not because of anything you did or didn't do.
How are you feeling? — Let's identify your feelings. Make a feelings chart. Children experience shame, guilt, loneliness, anger, hurt, mourning, grief, love, sadness, etc.
Separation hurts. Acknowledge the pain.
Children are bombarded with messages that "bad" people go to jail/prison. Stress that criminalization is not about good or bad people but about having broken a law.
Questions some children wish they could ask their loved one:
Why are you in jail/prison?
When are you coming home?
Will you forget about me?
Will you still love me? How will I know?
Help children navigate questions that others may have. They may experience bullying or persistent questions about what their loved one did to end up in jail/prison. Some things that children can say in response to those questions:
I don't know.
It doesn't matter to me. I love them.
In general, adults should:
Be truthful.
Listen.
Honor the child's feelings
Help the child stay connected to their loved one either through visits, phone calls or letters.
Adults are also impacted by the incarceration of loved ones and can also be traumatized. Be careful about projecting that trauma onto children. What are your own biases, experiences, etc…?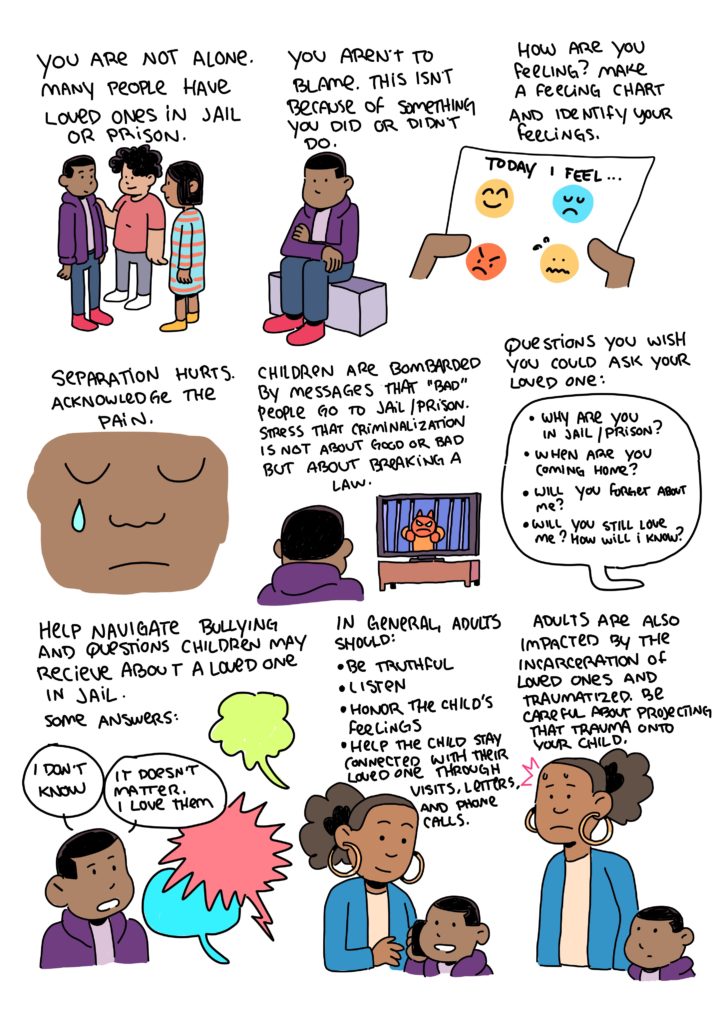 I asked Flynn Nichols to create an illustrated one pager to summarize these key points and he did a terrific job.
Jun
18
2019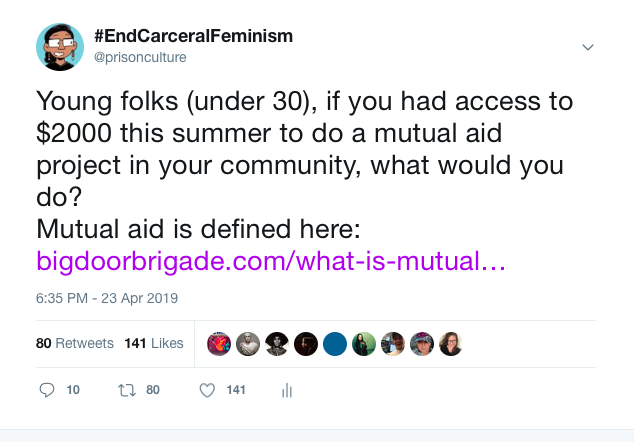 It all started with this tweet in April…
You can skip all of the blah blah blah below and just take a look at the wonderful #Map4Youth 2019 grantees here. We had over 90 applications and they were all terrific. Congratulations to the 14 projects selected for grants! You can also read the stuff below if you want some context and information for how we got to selecting these wonderful projects.
#Map4Youth or the Mutual Aid Project for Youth is a temporary grassroots initiative launched by me @prisonculture. As stated on the Big Door Brigade website: "Mutual aid projects are a form of political participation in which people take responsibility for caring for one another and changing political conditions, not just through symbolic acts or putting pressure on their representatives in government, but by actually building new social relations that are more survivable." Read more about mutual aid here.
More than ever, it's important that we work together to create the world we want to live in. There are many ways to do this, mutual aid is a critical one. This summer I and other donors invited U.S. based young people ages 12 to 29 to apply for a one-time grant to execute a summer mutual aid project of their choice. This project offers a different type of political engagement: it's a politics focused on supporting people in our communities and is not mainly about voting. There are many ways to do politics in the world.
The idea and process were simple.
Applications were made available on May 24. Applicants were asked to complete the application by May 31 (midnight ET).
A small group of volunteers read applications and decided who should receive a grant. We alerted selected grantees on June 14th that they received a grant and asked them to get back to us by June 17 if they were still planning their project and accepted the grant.
Funds will be disbursed by June 21st via check or electronic transfer.
Applicants could ask for up to $2500 for their mutual aid project. We funded everyone at the level they requested.
Other relevant information:
We received over 90 applications. We awarded 14 grants (up to $2500 each). Thanks to generous support from donors who contributed to a crowd fund and also donated directly we raised $34,440 (after all of the fees). We awarded $33,680. The remaining $760 will be donated. You can see all of the wonderful grantees here!
The selection committee included:
Adrienne (@adrienne_cw) who is a new elementary school teacher in New York City.
Susana (@chipoblana) who is a volunteer with the Chicago Community Bond Fund.
Adelaide Matthew (@MatthewDicken92, she/they) who is a white non-binary transwoman organizing in solidarity with abolitionist movements moving resources to criminalized survivors & QTPOC.
Eesha (@eramanujam) who works at Color Of Change as a campaign researcher focusing on media, culture, and economic justice.
Mariame (@prisonculture, she/her) who is an organizer and educator who directs @projectnia.
Juli (@julimsw_juli) who is an organizer with Survived and Punished NY.
We wish that we could have funded every single project. They were all so terrific. There were seven (7) other projects among the finalists. We were unable to support them. The total amount needed to fully fund them is $16,700. 6 of the projects asked for $2500 and one asked for $1700. If anyone is interested in sponsoring one or more of these projects, please reach out to @prisonculture at jjinjustice1@gmail.com.
"Liberation is the knowledge that we are not alone. It is mutual support, encouragement, and trust that others will be there if we fall, and that we need to be there for others." – Bobbie Harro

Uncategorized | prison culture |
Comments Off on Congratulations #Map4Youth Grantees!!!
May
22
2019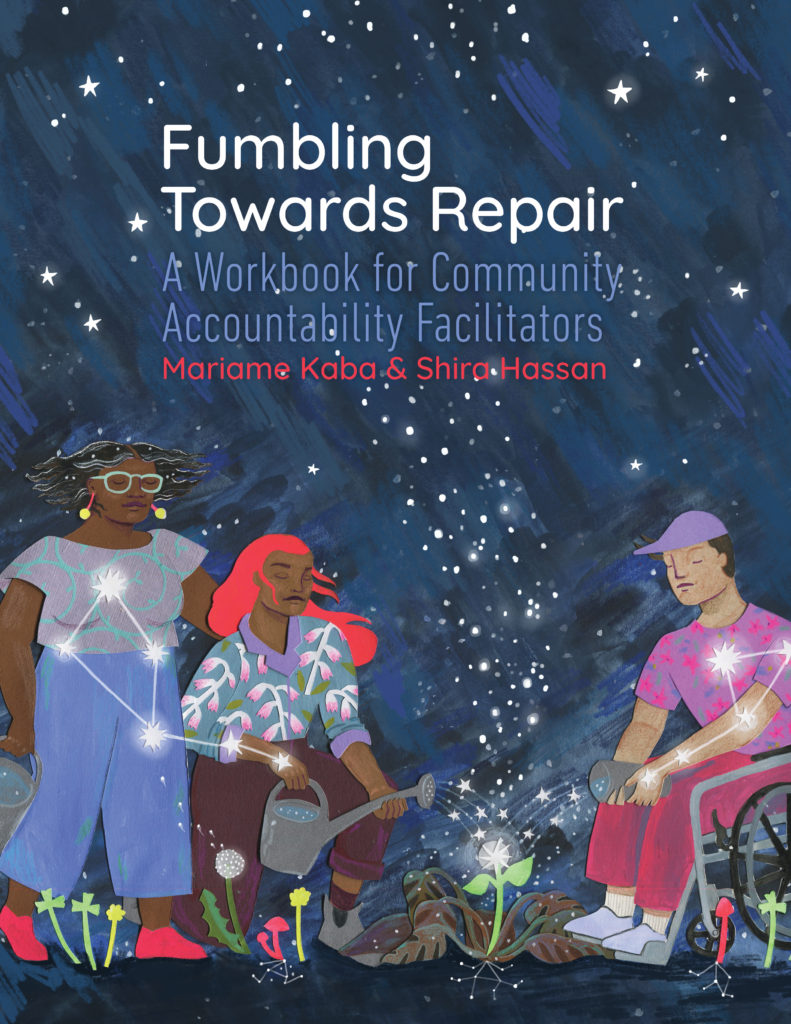 Art by Molly Costello (2019)
Fumbling Toward Repair is a workbook by Mariame Kaba and Shira Hassan that includes reflection questions, skill assessments, facilitation tips, helpful definitions, activities, and hard-learned lessons intended to support people who have taken on the coordination and facilitation of formal community accountability (CA) processes to address interpersonal harm & violence.
You can now pre-order the workbook here.
IMPORTANT NOTE: This workbook is NOT an introduction to community accountability. You will NOT learn how to facilitate processes by reading this workbook. We STRONGLY suggest that only people who have or are currently facilitating CA processes addressing interpersonal harm purchase this workbook.
If you have NO EXPERIENCE AT ALL with formal CA processes, we urge you to get some friends together for a study group using a FREE and terrific resource developed by Creative Interventions (CI). The CI toolkit offers a step by step guide for facilitating CA processes for interpersonal harms.
Finally, this is a workbook for FACILITATORS. That means that it's not intended to be mainly read but to be ENGAGED. This is not a reference book or a book of answers. It is a book to scribble in, to draw in, to jot down questions in, to think with, etc…
With all of those caveats, we invite people who might find this resource useful to purchase it through AK Press. We hope that it's useful for your ongoing work.
Any profits that derive from the sale of this workbook (after recouping production costs) will be reinvested in the training and curriculum development work of Project NIA and Just Practice Collaborative.

Uncategorized | prison culture |
Comments Off on Pre-Order: Fumbling Towards Repair
Mar
13
2019
You fought hard and the entrenched corrupt interests in Chicago still decided to back an unnecessary and inherently violent police "training" facility to be built on the West Side of the city. How tired you must be feeling after all of these months of struggle. Perhaps some of you are even wondering this evening whether your organizing was worth the time, energy, heart and spirit you devoted to it. After all, the City Council's vote is one you didn't want to see happen. You were hoping for a different outcome.
So isn't this a loss? Didn't you fail to win? A surface assessment of the campaign would say that the answer is yes. But you have been strategic, thoughtful and critical throughout this campaign so I know you know that surface assessments are not the full story. They are not THE truth. Organizing is mostly about defeats. Often when we engage in a campaign, we lose but any organizer worth their salt knows that it's much more complex than a simple win-lose calculus.
Here's what I know… Rahm and his cronies were hoping to ram through a proposal for a $95 million police "training" academy under the cover of darkness with no community input. A group made up mostly of young Black and brown people decided that this was wrong for a number of reasons. You then spent the better part of 18 months SHOWING people in Chicago and beyond through your actions that the power structure in the city would be in for a titanic fight to resist their plans. How did you do this? You researched their plans and proposals, you learned about zoning laws on the fly, you litigated when you were excluded from public meetings, you mobilized thousands, you engaged in political education, you developed the leadership of hundreds of new young organizers, you truly centered the ideas of young people of color, you conducted participatory action research, and you SHUT SHIT DOWN. Through your actions, people quite literally the world over expressed their solidarity with your fight. They saw themselves as directly implicated in the vision of the world you have so beautifully inhabited all these months. All of these are wins.
Even if I didn't know many of you personally, I would be in awe of what you did. But because I know many of you, I feel even more admiration because I know what you've sacrificed to wage this fight. I know about long strategy sessions, missed weekend relaxation, moments of doubt, and most of all consistent commitment.
#NoCopAcademy is an abolitionist organizing campaign and through your work, you've helped others understand what it means when we say that abolition is a practical organizing strategy. You told a story about policing as an inherently violent and death-making institution that WILL NOT be "reformed" by training cops "better" or in fancier digs. You pointed out all of the resources that this cop academy will swallow up and told the city that those resources should be diverted to life-giving institutions. You asked the right questions like: "Why are we feeding an institution that leads to the premature death of so many Black and brown people (especially young ones)?" The responses that you got were inadequate. Your opponents were exposed as uninformed, corrupt and craven. You embodied #NoCopAcademy organizer Benji Hart's analysis of abolition as a way "to transform our reactions to individual traumatic events into codified political commitments." You showed that abolition as a project is about building a vision of a different world: one where everyone has their needs met and where #BlackLivesMatter.
There are people and perhaps some of you are among them who are asking "what now?" For the core organizers of this campaign, there's time to come to your answer(s). The question should not be directed at you it should be directed to the rest of us. Now that you witnessed and perhaps supported this campaign from afar, what will you do now? What are the lessons from #NoCopAcademy that can be applied to your communities? How will you show up the next time your municipality tries to ram through a proposal without community input under cover of darkness? Will you boldly say no in the same way that #NoCopAcademy did? Will you organize your communities to fight? Will you refuse the apathy that overwhelms the need for more of us to be engaged in struggle?
For myself, I say thank you to the #NoCopAcademy organizers. You have sustained my hope. I choose to emphasize the fact that you fought as a win because what we choose to emphasize determines our lives. Your protest, your refusal to be run over, your local actions added to those of others the world over will slowly tilt this world towards more justice. People will share the story of this campaign and be inspired by it to launch their own.
I leave you with an excerpt from one of my favorite poems "the New York Poem" by Sam Hamill:
… a mute sadness settles in,

like dust, for the long, long haul. But if

I do not get up and sing,

If I do not get up and dance again,

the savages will win…
After you have time to rest, I hope that you will get up and sing and also dance. We will be here, right by your side, singing and dancing too. The savages will NOT win…
My love to you all.

Uncategorized | prison culture |
Comments Off on A Love Letter to the #NoCopAcademy Organizers from Those of Us on the Freedom side…
Feb
13
2019
Please join me in the coming weeks for several events that I am co-organizing.
March 15 — "The Torture Machine" with Flint Taylor — Flint is a long-time Chicago attorney and partner at the People's Law Office. He has a new book out. The Torture Machine takes the reader from the 1969 murders of Black Panther Party chairman Fred Hampton and Panther Mark Clark—and the historic, thirteen-years of litigation that followed—through the dogged pursuit of commander Jon Burge, the leader of a torture ring within the CPD that used barbaric methods, including electric shock, to elicit false confessions from suspects. Come to the Strand to hear about the book, the Reparations law in Chicago and more.
March 21 — "A Call to Negro Women" – A Discussion Circle — This will be a discussion about a proto feminist formation of the early 1950s called the Sojourners for Truth and Justice. The discussion will focus on how STJ embodied Black Left Feminism and previewed concepts like intersectionality. Space is limited for the discussion.
March 27 — The Long Term — please join me for a reading and book launch for The Long Term. I really think this book is good and appreciate the space it gives to currently and formerly incarcerated people to tell stories about the impact(s) of long-term incarceration.
April 27 — A National Gathering About Building Accountable Communities. — Please join us for a day long conversation focused on the question of how we can support people to take accountability when they cause harm. More information will be posted in the coming weeks about how to register, content of the day etc…

Uncategorized | prison culture |
Comments Off on Upcoming Events
Oct
01
2018
October is Domestic Violence Awareness Month. As part of my work with Survived & Punished, I developed a curriculum unit with contributions from others focused on the criminalization of domestic violence survivors. It is our hope that people will use the unit for political education and consciousness-raising in October and beyond. The curriculum can be accessed here at no cost. Complete the survey and make sure to copy and paste the link to download the curriculum before exiting.
After what has been a very emotionally taxing and potentially triggering week for survivors of sexual assault and domestic violence, I'm also sharing an activity that I hope will provide an opportunity to honor and uplift the victims and survivors of gender-based violence in our communities.
My comrade artist Ruby Pinto created a set of silhouettes that can be used to create a wall of remembrance/wall of honor to uplift and remember victims and survivors of domestic violence this October.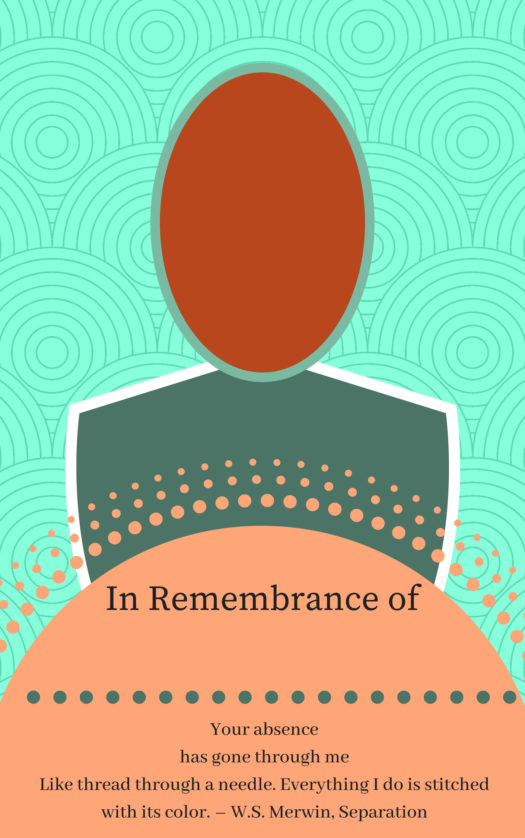 by Ruby Pinto
The goal of this activity is to memorialize victims of domestic & sexual violence and to honor/uplift survivors.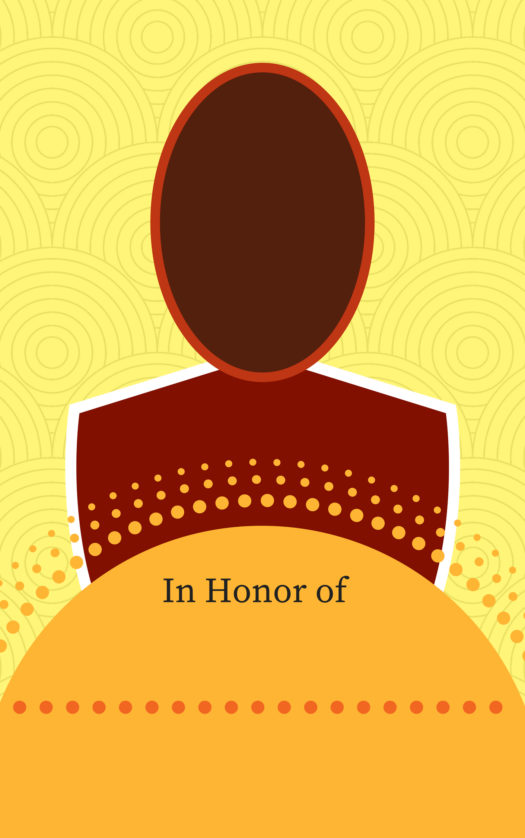 by Ruby Pinto