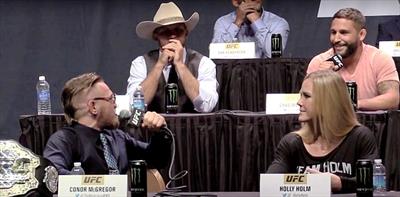 Conor McGregor is not a purveyor of "How to Win Friend and Influence People." The brash Irishman takes aim at anyone and everyone that even comes near his sights.
At the recent UFC "Go Big" press conference, McGregor got heated with numerous peers, including Chad Mendes, whom he defeated for the interim UFC featherweight championship in July, and Donald "Cowboy" Cerrone, one of many fighters he has had words with via social media.
McGregor rarely pulls a punch, and didn't hold back at the press conference, which also saw him nearly get into a fist fight with featherweight champion Jose Aldo.
RELATED > Jose Aldo and Conor McGregor Nearly Comes to Blows at Press Conference (Video)
After calling Mendes a "little bitch," he responded to Cerrone's remarks by calling him a bum.
Enough of our description… check out the footage for yourself…