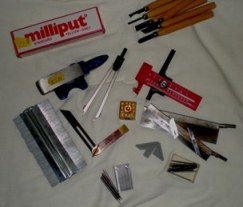 Comming soon will be a range of articles and projects were you will be able to learn the basics of car modelling and follow us through the build processes for plastic, resin and white metal kits. Converting and scratchbuilding will also be covered in our extensive explanations of the techniques we use in our modelling.
This is the index page for our information on model car building.
We will guide you through the building of different types of kits, detailing, converting and scratch building model cars. Using our models as examples you will learn our tips and techniques so you can apply them to your own models.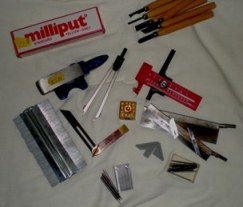 How to build a model car.
If you have made a kit or two you probably worked some of this stuff out, but if you are new to model making this article will help you understand the instruction sheet and give you all the information you'll need to help you produce a good looking model at the first try.
For basic kit information……..

Basic building information…..

For information on painting…..

The finishing touches……
Building a Resin model, Matra 670.
Follow this build of a resin model kit to learn our techniques to get the best out of this type of kit.
Once you have gained the confidence to try this medium a whole new array of subjects opens up.
Building/converting a metal model.
1967 Lotus 33 BRM
As more multi media kits have become available todays modeller must be able to adapt to all the available modelling mediums. Working with white metal kits brings some new challenges but nothing you can't handle.
The black art of scratch building brought out into the open.
Follow our helpful information and create your own model. Go on, have a go, you'll probably surprise yourself.
Learn about tools, scale, plans, and make a start on building a chassis.

Moving onto suspension, engines and drive chain next.

Adding the details, nuts and bolts, hinges, handles and gauges.
Scratch building the Benz prototype.
The worlds first car, it's patent applications can be considered the birth certificate of the car.
See how this model was built from scratch by Rod. See the article above for more help with scratch building.
Scratch building the 1904 Darracq.
Another example of scratch building to help explain the processes and procedures.
The 1904 Darracq made famous in the film 'Genevieve' scratchbuilt by Rod.
The restoration of model cars.
Advice on the restoration of old and damaged plastic model cars. Learn our techniques for removing enamel paints, repairing broken parts and some ideas for making new parts.
Restoring the Jaguar XK120.
Follow the strip down and rebuild of this 1/32nd scale and see it's conversion into a model of a tourist trophy winning car.
Restoring the BRM P261.
See how we transformed an old slot car model into a new addition to the museum using modern techniques and materials.
Detailing model cars.
Modellers have been seeking the most realistic look for their cars for many years. It is now easier than ever with many after market detail sets on sale. Whether resin, white metal, photo etch or scratch built, the key to realism is in the details.
Detailing the Peugeot 205 T16.
In this article we will demonstrate some simple, cost effective, techniques that could improve any car model. The rally arena provides another avenue of motor racing.
Detailing the Lago-Talbot T26.
This 1/24th. scale Heller kit has been superdetailed throughout. Follow Ian's build to see how it was achieved.
Re-spoking wire wheels.
Learn some techniques to improve wire spoke wheels on plastic kits, and how to scratch build new ones, with our guide to making wire wheels.
Making custom decals at home.
Making decals is something which seems very complicated to ordinary modeller but it is actually quite straightforward. In this article we give you the benefit of our experiences in making decals.

The pages below is/are under construction,
We are sorry for any disappointment,
Please come back soon and see the progress.
OR
If you have a question please feel free to e-mail us at,