{embed_html}


The Year in Beer: Breaking Down 2019 By The Numbers by Todd Alström
Limited, higher alcohol, American-style IPAs, Stouts, and Sours from a select group of American brewers apparently dominated palates and discussions on BeerAdvocate in 2019.
Stone Xocoveza: An Imperial Stout Inspired by Mexican Hot Chocolate Beer Reviews by Jason & Todd Alström
Brewed with cocoa, coffee, pasilla peppers, vanilla, cinnamon, nutmeg, and lactose, with English Challenger and East Kent Golding as featured hops.
Kim Sturdavant, Brewmaster at Social Kitchen & Brewery, on Creating the Brut IPA Last Call by Courtney Cox
Kim Sturdavant had been using an amylase enzyme to dry out Social Kitchen's Triple IPA for a couple of years before he tried adding it to his standard-strength IPA. The idea evolved from there, resulting in the bone-dry style dubbed "Brut IPA."
How World War I Changed Pub Culture, and Beer Itself History by the Glass by Ron Pattinson
WWI had a permanent legacy. UK beer became relatively weak and pubs remained closed for much of the day.
Duck Foot Brewing Company's Goofy Regular IPA Label Approval by Courtney Cox
In its Hop-On series, Duck Foot Brewing asks one of the great questions of the ages: Do ducks hop?
The Other Side of the Hop: Homebrewing with Debittered Leaf BYOB by Drew Beechum
Concentrated hop products like Cryo Hops and Hop Hash from Yakima Chief Hops deliver on their promise of more aroma and flavor, but what of the subtler side of things? What about all of the other hop material that falls by the wayside in the pursuit of concentration?
In Defense of Public Drinking Unfiltered by Andy Crouch
Instead of embracing the beauty of public and outdoor drinking, Americans have largely relegated alcohol consumption to bars, implicitly marking them as dark dens of adult iniquity. Fortunately, small breweries are pushing for change.
Great Notion Opens Much-Anticipated Second Location in Northwest Portland News by Ben Keene
Great Notion's second location offers plenty of growing room for the three-year-old company, along with to-go coffee six days a week, an expanded menu, and most importantly, more beer.
Hardywood Founders Discuss the Changing Beer Landscape and the Launch of Their New Brand, Suncrush News by Ben Keene
Eric McKay and Patrick Murtaugh, founders of Virginia's Hardywood Park Craft Brewery, talk about their motivation for offering low calorie, low alcohol beers under a new brand.
How to Make a Cascadian Caipbeerinha Kindred Spirits by Yetta Vorobik
A float of hoppy IPA brings floral and piney flavors along with a bit of Pacific Northwest flair to this riff on a caipirinha, the quintessential Brazilian cocktail.
Beers and Baskets: Breweries Connect with Disc Golfers Draft Picks by Jeffrey Wiser
There are over 6,000 disc golf courses scattered across the US today, an enormous number for a niche activity. Craft brewing has seen a similar explosion, so it should come as no surprise that there has been a convergence of these two interests.
Does the Brut IPA Have a Future? Style Profile by Ben Keene
More than 600 examples of Brut IPA have been added to the BeerAdvocate database in recent months. Can it hold the attention of beer enthusiasts or will demand sputter as drinkers return to West Coast IPAs and New England IPAs?
3 Chicha de Jora Myths, Debunked Travel by Martin Thibault
In terms of texture and appearance, the malted white corn beer known as Chicha de Jora bears a striking resemblance to milkshake IPAs. But since it's naturally carbonated and unhopped, the similarities end there.
Rodenbach and Dogfish Head to Produce First Collaboration in Famed Belgian Brewery's History News by Ben Keene
For the first time in its nearly 200-year history, Rodenbach will produce a beer in partnership with another brewery. But fans will have to wait until 2020 to try it.
Alsace: Europe's Great Forgotten Beer Culture Feature by Will Hawkes
Alsace is France's brewing powerhouse: Around 60 percent of the beer drunk in the country is brewed here, and the vast majority of its hops are grown here, too. Now the region is enjoying a revival.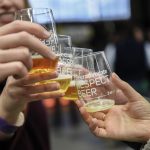 The Can't Miss Pours of Extreme Beer Fest Boston 2019 News by Ben Keene
With roughly 500 beers, ciders, meads, and kombuchas to choose from—our largest Extreme Beer Fest lineup to date—it's not going to be easy to decide where to start.
Mountain Magic: Spontaneous Fermentations from Peru's Sacred Valley Feature by Martin Thibault
The chosen tipple in rural Peru isn't Kellerbier, Světlýý Ležák, or Best Bitter. It's Chicha de Jora, a staple of the Incas who ruled as far back as the 14th and 15th centuries. And it still thrives in many Andean villages and towns today.
The Life of a Label Artist: A Look at Beer's Prolific Visual Storytellers Feature by Ken Weaver
From the narrative-driven artwork of Jolly Pumpkin to the modernist pop-culture mashups of Stillwater, brewers and artists are increasingly using beer's packaging as an opportunity to tell a story about their brand and the liquid inside.
Mississippi Rising: Long Limited by Restrictive Laws, Magnolia State Breweries Finally See Promise Feature by BeerAdvocate staff
In 2011 there was just one craft brewery in Mississippi. Today, the state ranks 51st in breweries per capita. We set out on a four-day road trip to learn more about the young beer scene.
The Year in Beer: Breaking Down 2018's Ratings and Reviews By The Numbers by Ben Keene
During the 2018 calendar year, users added more than 70,600 unique beers to the site. That averages out to over 193 new beers every day.
A. Fisher Brewing Company: Reviving a Utah Legacy From the Source by Sara Weber
By reviving one of Salt Lake City's beloved heritage brands with a distinctively modern approach, A. Fisher Brewing Company has earned the admiration of beer drinkers young and old.
Ken Grossman on the Sierra Nevada Camp Fire Relief Fund and the Collaborative Effort Behind Resilience IPA Beer It Forward by Ben Keene
Sierra Nevada's Ken Grossman talks about the potential reach of the Camp Fire Relief Fund, the logistics of coordinating such a large initiative, and his company's dedication to helping its community rebuild.
What if a Hurricane like Sandy Hit Your Brewery? The Very Real Danger of a Rising Tide By The Numbers by Aleszu Bajak
With sea levels and storm surges rising, coastal breweries are going to see a lot more flooding. We mapped storm surge scenarios and low-lying breweries for several US cities.
Pale Ales and Painkillers: Why Brewers Find Inspiration in Exotic Cocktails History & Culture by John Verive
Influential brewers across the country are both escaping their daily doldrums with exotic explorations and bringing tiki's tropical flavors and escapist ethos back into the brewhouse.